By Nikki Gilliland, Econsultancy
Primark is one of the latest retailers to announce the temporary closure of some of its stores, in a bid to help stop the spread of coronavirus.
It has closed outlets in Italy, France, Spain, and Austria (where 30% of its revenue is generated), while its UK and Northern Ireland stores – at the time of publication at least – remain (perhaps controversially) open.
Primark is certainly not the only one to take this kind of action. Global retailers including Glossier, Nike, Urban Outfitters, and Patagonia have all indefinitely shut their stores, purely to help prevent further outbreak.
In the majority of cases, employees are being paid for lost shifts. At the same time, retailers have also updated working policies to help ease the strain on staff. Starbucks, for example, has announced that it is implementing 'catastrophe pay' to US employees, meaning that it will now pay staff for up to 14 days if they have been diagnosed or in close contact with someone who has coronavirus.
Consumers switch to online shopping
With consumers staying home and avoiding public places, it makes sense that some ecommerce retailers will see an upsurge in traffic. Indeed, in a survey of more than 2,200 marketers this week (conducted by Econsultancy and Marketing Week), 71% of UK marketers predicted that there will be an increase in ecommerce usage as a result of coronavirus. However, ecommerce consultant Dan Barker highlights the difference in impact across different retail categories (e.g. garden furniture and crafting is doing well, fashion is experiencing a dip).
Food and groceries is, of course, the sector that looks set to benefit the most. Interestingly, a global Ipsos survey (of 10,000 adults) conducted on March 12th to 14th found that people in the majority of countries are buying food or groceries online no more than they usually would. At the time of the survey, only Italy was ordering food or groceries online more often, with this behaviour over 30% more frequent than the month previously. Nearly a week on, it's perhaps likely that countries in a similar situation to Italy will follow suit, as the number of people spending time at home will have also increased.
Image via Ipsos.com
If the situation continues or even worsens in the next few weeks and beyond, it might not be the case that all sectors will benefit. Shelley E Kohan, for Forbes, writes that "categories more prone to increase during times of physical retraction of a population are health and beauty, grocery, and consumer product goods." As a result, she predicts that "spending on fashion merchandise may decline while Americans look to make sure needed goods are well-stocked in their homes."
This looks to be the case in the majority of affected countries, too. In China, sales of household staples such as rice and flour have quadrupled on JD.com since the same period the previous year. In the UK, supermarkets have issued a statement saying that "those with online delivery and click-and-collect services are running them at full capacity", with online grocery delivery slots now sold out for the next three weeks at least. Meanwhile, Amazon has also restricted third-party sellers of health and sanitisation products like disinfectant and face masks, due to sellers unfairly ramping up prices.
All things considered, while ecommerce retailers might benefit in the short-term, issues relating to stock and supply chain are also likely to arise. It will be important for retailers to quickly invest in order to meet demand, but at the same time, to ensure that they do not promote panic buying or stock pile themselves.
A good example of how to tackle the situation (and to help prevent further issues from arising) also comes from Chinese ecommerce giant JD.com. In February, Yahoo! Finance reported how JD.com learnt from its experience of operating during the SARS outbreak, and this time took steps early on to reduce the impact on employment from coronavirus, while also ensuring that it is able to keep up with customer demand. Action included partnering with restaurants to hire additional couriers, hiring employees from temporarily closed supermarkets, and creating new logistics-based jobs.
Morrisons is one UK retailer doing a similar thing; it's just been announced that the retailer is to create an extra 3,500 jobs to help deal with the demand arising from coronavirus.
The omni-channel opportunity
For a brick-and-mortar retail company like Primark, the closure of stores will have a big impact on revenue. And obviously, even without taking this step, there has been a natural reduction in footfall due to coronavirus, resulting in a like-for-like sales decline over the past two weeks. Parent company ABF commented: "We are managing the business appropriately but do not expect to significantly mitigate the effect of the contribution lost from these sales."
For omnichannel retailers then, there is the opportunity to shift focus (and potential investment) to ecommerce. For these closed stores, it will be a case of making use of stock, perhaps using clever PR in order to generate awareness and to increase traffic.
Even for the most in-demand online retailers, however, challenges are likely to arise. Delays or disruption to deliveries is another big issue, which could potentially frustrate customers and have a negative impact on brand reputation or loyalty in both the short and long term. Earlier this month, Amazon warned customers that deliveries would be slower than usual, and since, there has been complaints that certain categories are continuously out-of-stock.
All of these issues are likely to be dealt with on a rolling basis, especially as the situation is continuously changing.
Focusing on CX
Going forward, retailers (and businesses in general) need to be particularly mindful about how they communicate. Any companies that appear as if they are overtly capitalising on coronavirus or sensationalising the situation are in danger of alienating consumers. We've already seen social networks crack down on this behaviour; Facebook has implemented a ban on adverts that refer to coronavirus with a sense of urgency, or that provide misinformation.
Similarly, retailers need to be both transparent as well as vocal about how they are approaching the situation. Email has already been effectively utilised, with the majority of retailers sending out marketing emails in order to address how they are handling the situation. However, it's also important that retailers are just as responsive on social media and other digital customer support channels.
A little bit of gentle and relatable humor is welcome, too, as long as marketers strike the right tone.
Today's tea:
) ( ) )
_(___(____)____(___(__ _
\ /
\ currently / __
\ attending / |
\ meetings /——
\ in my PJs /
\___________/
For ecommerce retailers, communication related to delivery practice is particularly vital for reassuring customers. In the majority of cases, standard practice has now changed to 'no contact' deliveries, whereby delivery workers leave packages at the door.
Finally, retailers that are seen to be taking proactive steps to help and protect consumers wherever possible are also likely to benefit. UK supermarket Iceland is one great example, having just announced that it will open its stores one hour early so that older shoppers can get what they need.
We know that many of you are worried about the impact of Covid-19, particularly for vulnerable people and the elderly.

We wanted to let you know about the action we have taken.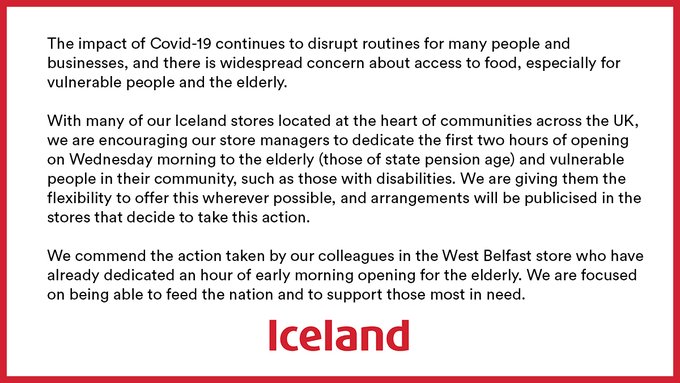 Louis Vuitton owner, LVMH, is another doing good. The brand has begun using its perfume production lines to make hand sanitiser, which it is sending out to hospitals in France. Elsewhere, retail stores that remain open are taking as many precautionary measures as possible, such as going cashless or staggering entry.
With retailers now taking each day as it comes, it's impossible to say what the 'new normal' will be for the industry in the coming weeks or months. But being customer- and employee-focused is more important than ever.
Article originally appeared on eConsultancy.
Interested in learning more about V12's retail marketing solutions? Click here for more information.